Blog

Top 5 Maine Lobster Rolls! (2023 Edition)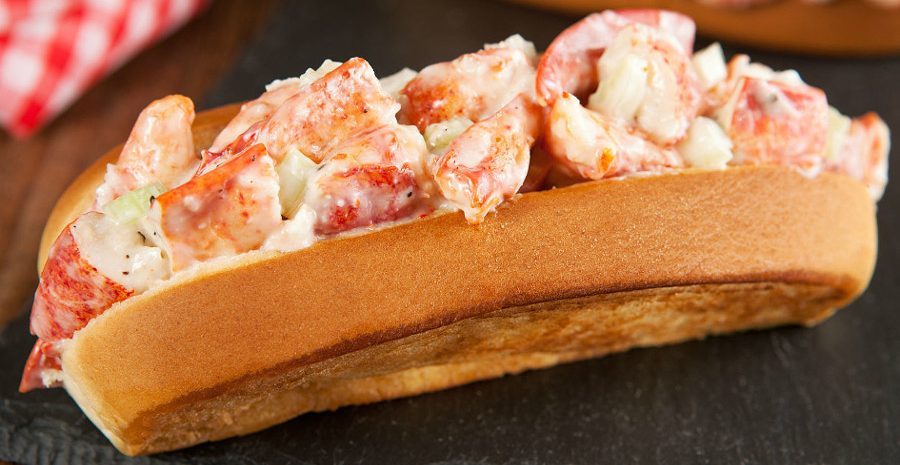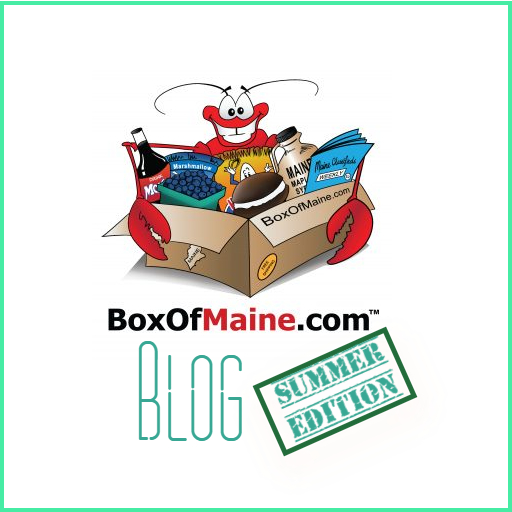 ---
---
Whew! what a exceptionally humid summer in Maine so far but that's nothing new for us rugged Mainah's. Don't worry, I have the perfect remedy for that summer heat- The Lobster roll! There's just something iconic about the whole experience of spending the day driving to the Maine coast (some may get lost on the way) parking that vehicle and ordering the whole family exactly what's needed-  humongous pieces of fresh lobster. Forget all those imitators out there, Maine is the apex of lobster rolls. I believe it's the frigid water off the coast that makes lobster meat so succulent it practically melts in your mouth. If you're a first time visitor or on returning trip to Maine and unsure what combination of ingredients form a perfect lobster roll, I have one word for you-simplicity.
A lobster roll consists of 3 main parts – the lobster meat – the bun – the sauces, forget about the lettuce that only causes dissatisfaction. There's no reason to overcomplicate this, just stick to the basics and enjoy what waters of Maine created. We have about 6 weeks left of summer which means you have plenty of time to google one of these amazing restaurants address, pile everyone in the vehicle and spend the day exploring the hundreds of miles of Maine's rocky coast. Box of Maine thanks your for time spent reading and I hope you find the lobster roll you've been dreaming about on this list!
---
#5 – Boothbay Lobster Wharf – 97 Atlantic Ave. Boothbay Harbor, Maine 04538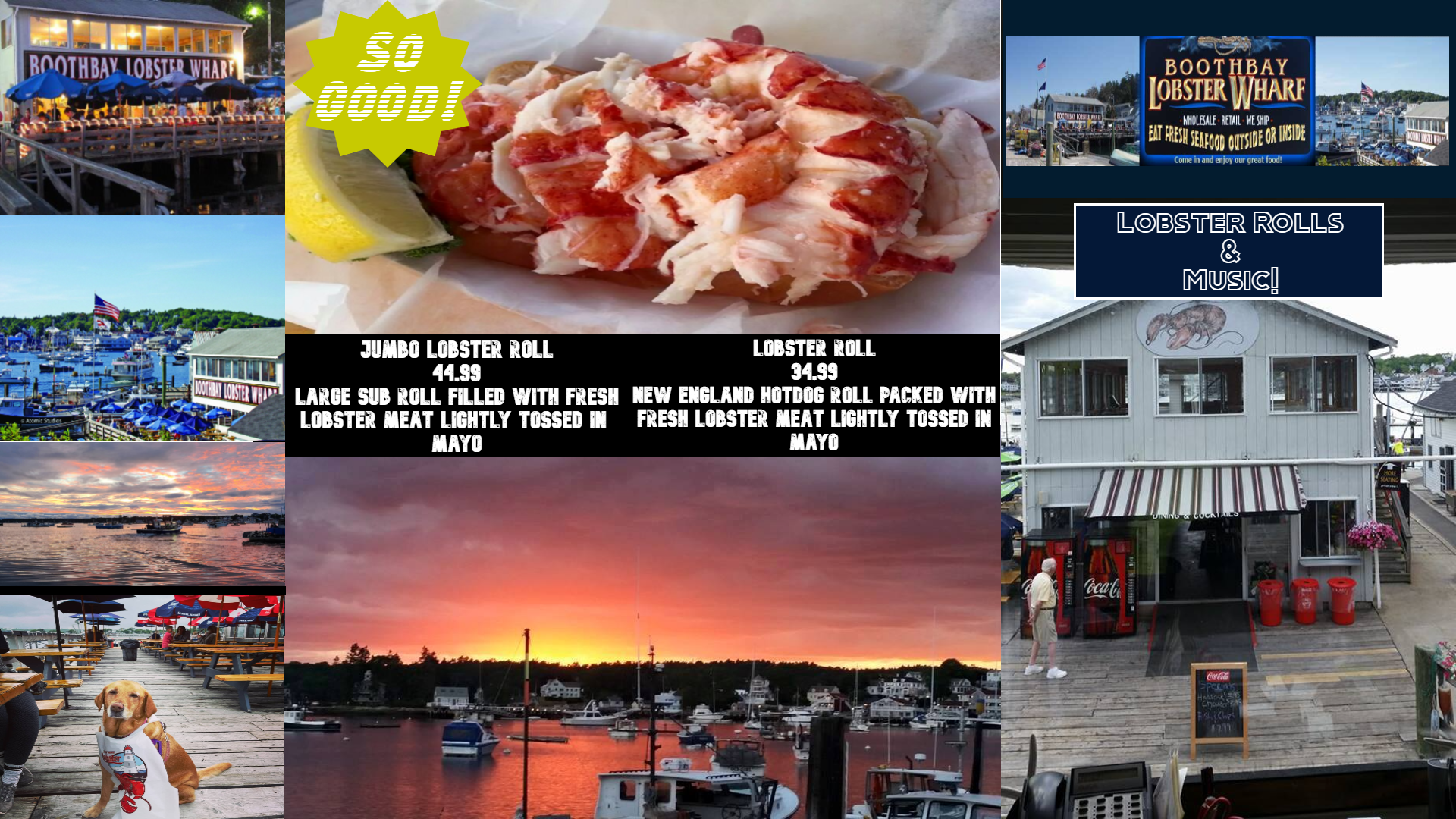 At the #5 spot is a seafood restaurant that includes a working lobster dock where you can watch the local fisherman unload their daily catch of lobster. Located in Boothbay Harbor, Maine, Boothbay Lobster Wharf is a combination of fresh tantalizing seafood combined with local groovy music. One of the most mouthwatering lobster rolls in Maine, Boothbay Lobster Wharf is a MUST go to family weekend destination this summer. If your interested in a little nightlife- no problem, Boothbay Lobster Wharf is always inviting talented musicians to come play.
This restaurant is a coastal gem offering beautiful sunsets, fried seafood and great conversation with the local Mainah's. They are opened 7 days a week from 11:30am – 9:00pm. Come and check out their popular Maine lobster roll with huge pieces of fresh lobster, perfectly toasted New England hotdog roll and plenty of sides to order! With over 2,824 likes on Facebook & 9,683 people checked in, plan that visit and bring a loved one or close friend with you, Bon Appetit !
"Perfect lobster, great atmosphere, beautiful scenery, very friendly service. Live music." – Lew H.
"Great lobster and the views are terrific! Looking forward to going again" –
Anne M.
Visit them @ https://www.facebook.com/BoothbayLobsterWharf
@ https://www.boothbaylobsterwharf.com
Contact # (207) 633-4900
If you have any questions, feel free to email them @ [email protected]
Hours of Operation: Monday – Sunday (11:30am – 9:00pm)
Address: 97 Atlantic Ave, Boothbay Harbor, Maine 04538
---
---
#4 – Quoddy Bay Lobster – 7 Sea St. Eastport, Maine 04631

At #4 is truly a slice of heaven by the sea. Located in the most eastern part of the United States, Quoddy Bay Lobster is one of the elite take out restaurants for Maine lobster rolls. Known for the massive lobster claw on top of the roll, this take out stand also doubles as a operating fish market(check their Facebook page for times you can stop by the pier). As we dive deeper into the top 5, I can't help but marvel at the simplicity of their roll. Forget making it look pretty- as Mainers, all we need is a few moist & chunky pieces of lobster with mayo, a side of coleslaw, a pickle, a bag of lays potato chips and a chocolate whoopie pie for desert. After purchasing your food, the next stop is their dozen or so picnic tables they have set up for you to enjoy the magnificent view of Campobello Island while you munch down on your meal.  Situated just off the main drag in Eastport, Maine, this is a bucket list destination for anyone who loves Maine and what it has to offer.
"Hands down the BEST seafood I've ever had, and I grew up on the coast. Don't bother going anywhere else on this continent for any food fish or shellfish. Just don't. Like, for serious." – Mack M.
"The food, the people & the entire atmosphere cannot be beat anywhere!!!!! Love this place!" – Caryn C.
Visit them @ https://www.facebook.com/quoddybaylobster
Contact # (207) 853-6640
If you have any questions, feel free to email them @[email protected]
Hours of Operation – * Shack temporary closed due to family member being sick – Fish Market is open Friday & Saturday 11:00am – 3:00pm call pier manager Jason at 207-853-9630 first come first serve! Try making your own lobster roll at home.
Address – 7 Sea St, Eastport, Maine 04631
---
---
#3 – Red's Eats – 41 Main St. Wiscasset, Maine 04578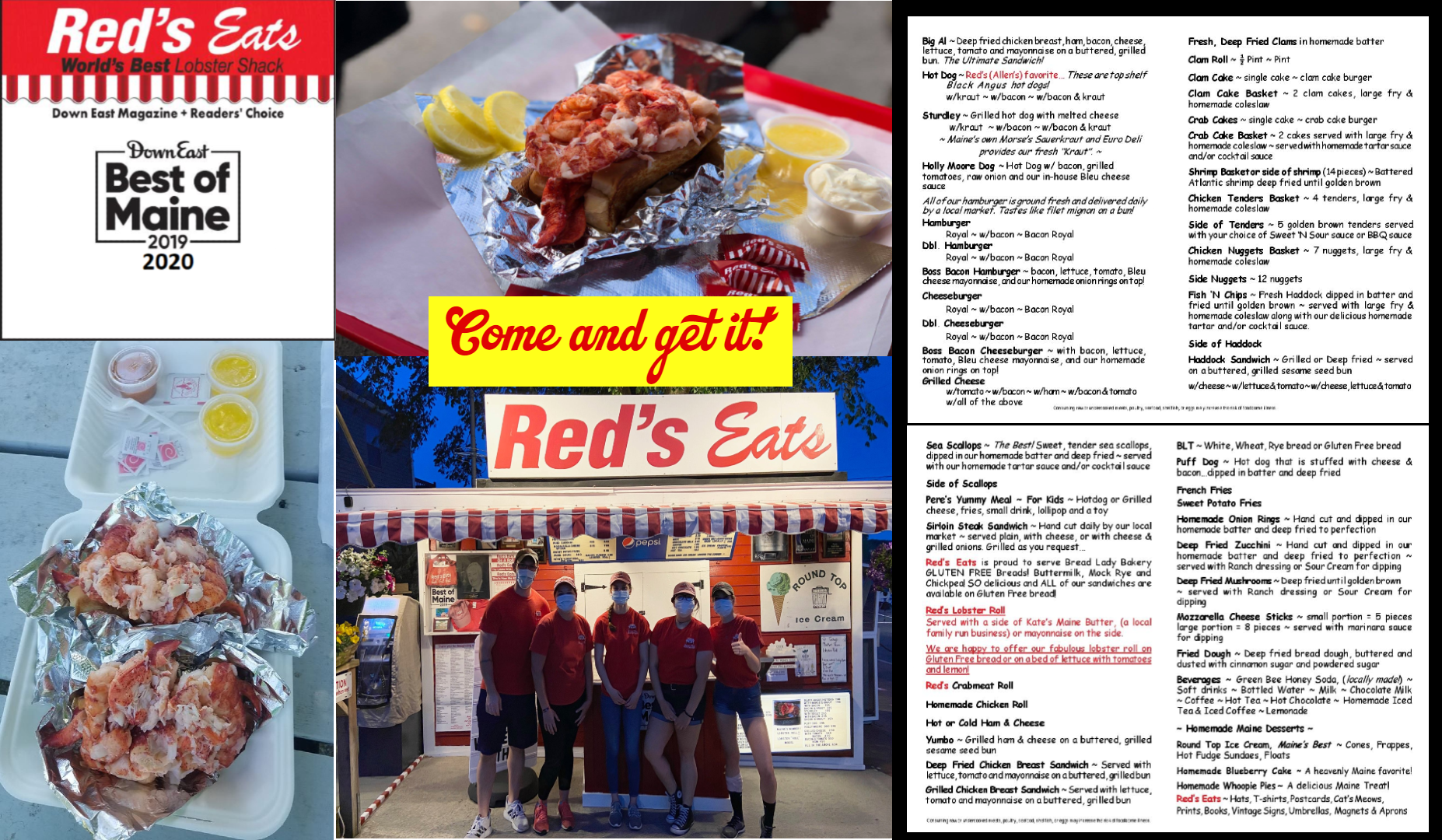 Sliding into the #3 spot, one of the more popular lobster take out restaurants-Red's Eats. Nestled off Route 1 in Wiscasset, Maine this tourist destination starts slinging lobster rolls early usually generates a line down the street so be prepared, from what I scoped out on Facebook, it's between 30-45 mins. Red's Eats has achieved gold in 2019 & 2020- winning DownEast magazine "Best of Maine" in two years in a row so when it's finally your time to order, ask for the famous- Red's Lobster Roll. This lobster roll comes with large savory pieces of Lobster meat served on the popular toasted New England hotdog roll or Gluten free bread and comes with a side of Kate's Maine Butter or mayonnaise depending on how you like it! This Wiscasset business has been serving the community for over 70 + years and has gained a serious celebrity following but popularly aside, this family owned restaurant still has a lot to prove- that fame hasn't changed who they truly are.
Best ever!! Worth the wait! If it's hot they know how to treat their patrons they bring water and food for snacking (while waiting in line)! – Lisa W.
Best deal for the most lobster and best lobster– Stephen G.
Visit them @ https://www.facebook.com/Reds-Eats-175139778087
@http://www.redseatsmaine.com/
Contact # (207) 882-6128
If you have any questions, feel free to email them @ [email protected]
Hours of Operations: Monday – Sunday (11:30am – 7:00pm)
Address: 41 Main St, Wiscasset, ME 04578
---
---
#2 – Eagle's Nest Restaurant – 1016 North Main St. Brewer, Maine 04412
Climbing over more well known restaurants, coming in the #2 spot is the greatest place some people have never heard of- Eagle Nest's Restaurant. Located on route 9 in Brewer, Maine this place has conquered the Maine lobster roll. Opened 7-days a week, come in and grab a table and order your drinks- there's no need to glance at the menu because it's the lobster roll you're looking for. Eagle's Nest serves you a enormous portion of fresh Maine lobster meat with chilled mayonnaise, a golden brown New England hotdog roll, a healthy side of coleslaw and a decent helping of crispy French fries. The best part, this lobster roll is coming in as one of the best priced rolls on this list.  I promise you- check out this restaurant, no long lines, great customer service and a view of the Penobscot River.
"Easily one of the best little restaurants in the county if you haven't check this place out you have to they have the most down to earth kind service and their food is as good as mom cooking… well almost as good as my mother would kill me if she heard me say that" 
– Bruce B.
"Wow! The best and largest lobster roll of any I have tried. This was our first stop in Maine, but I wish it had been our last since all of the other lobster rolls I tried paled in comparison! The onion rings were also fantastic!" – Ashley L.
Visit them @ http://www.facebook.com/eaglesnestbrewer
Contact # (207) 989-7635
If you have any questions, feel free to reach out on Facebook or by phone.
Hours of Operation: Monday – Sunday (11:00am – 8:00pm – Order's must be in by 7:30pm)
Address: 1016 North Main Street, Brewer, Maine 04412
---
---
#1 – McLoons Lobster Shack – 315 Island Rd. South Thomaston, Maine 04858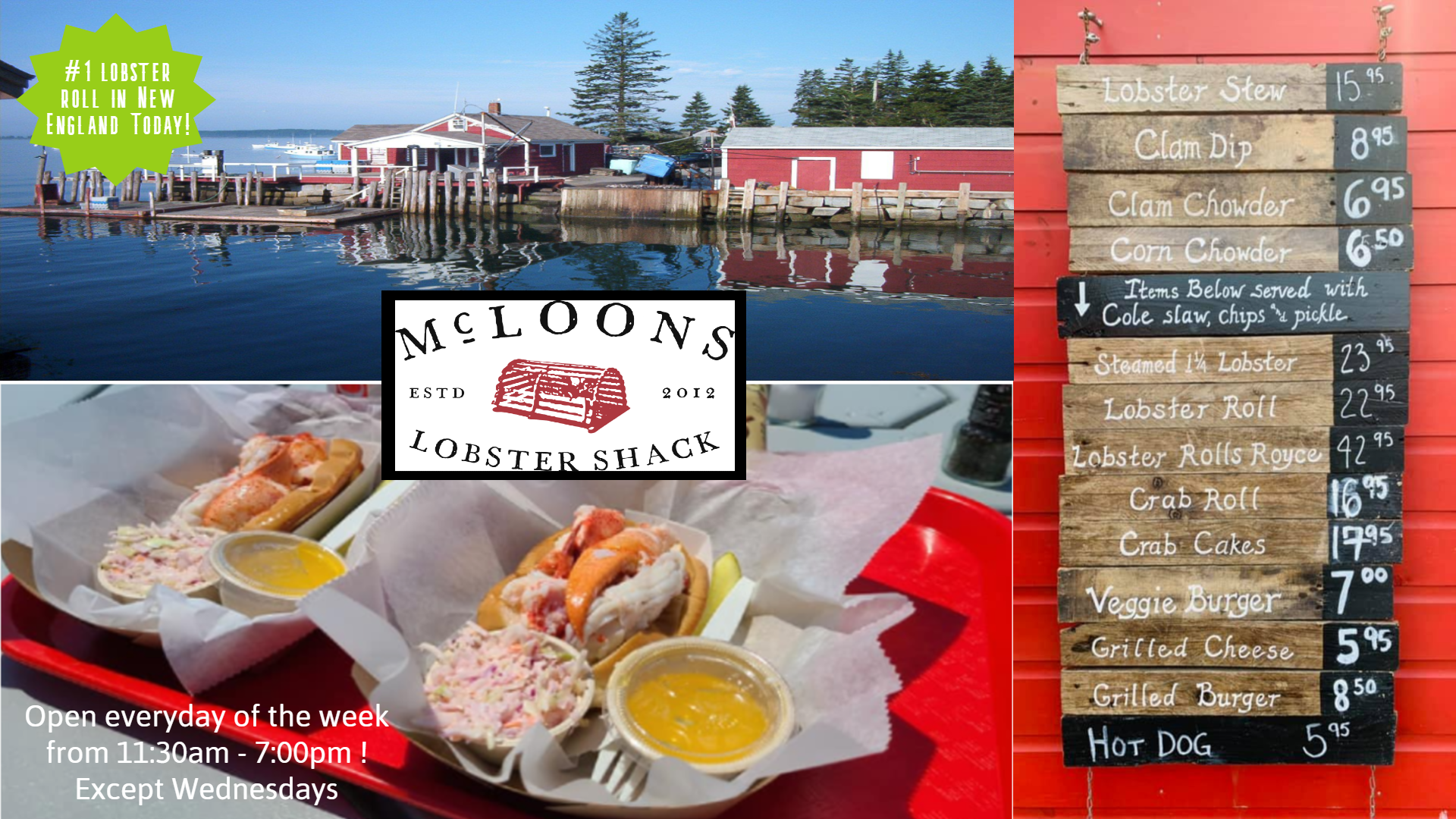 This heavy hitter will be hard to dethrone, this restaurant is the quintessential of Maine served in a roll. A gargantuan piece of fresh succulent lobster meat cooked to perfection, served on a buttery roll that's toasted with precision. It's doesn't end there, their coleslaw is a masterpiece waiting to be consumed, different for any other restaurant on this list, it looks like there's a extra ingredient that make it a light purple hue. Finishing it off with the classic pickle and a side of melted butter, this lobster roll is champion but the scenic view is the icing on the cake. Located in South Thomaston and only feet from the Atlantic Ocean, this working lobster wharf will be hard to end it's reign, with it's amazing lobster roll, picturesque view and great service- your only choice now…come and taste the clear winner of the best lobster roll in Maine.
almost a secret little spot but magazines have written very well on them. we have visited twice at off times but they were still crazy busy! the best steamed lobster I have ever had. we will return many more times! – Kelley D.
Best lobster roll we ever had and the scenery right on the water was great – Mary Anne R.
Visit them @ http://www.facebook.com/McLoonsLobsterShack
@ http://www.mcloonslobster.com/
Contact # (207) 593-1382
If you have any questions, feel free to email them @[email protected]
Hours of Operation: Monday – Sunday (Wednesday they are closed) 11:30am – 7:00pm
Address: 315 Island Rd. South Thomaston, Maine 04858
---
---
If you made it to the end of this blog– Thanks for checking out one of Box of Maine's summer blogs. If you've already been to one of these great restaurants, feel free to comment below about your experience! Check out Box of Maine's lobster themed items at our website @ Boxofmaine.com – Please have a wonderful and safe trip wherever you travel this summer and I'll see you on the next one. God Bless!
Box of Maine Facebook Page – https://www.facebook.com/BoxOfMaine
Big fan of Podcasts? Check out Season 2 of our show – Made in Maine @https://madeinmainepodcast.podbean.com/