Blog

Best Coffee Shops in Portland, Maine (2023 Edition)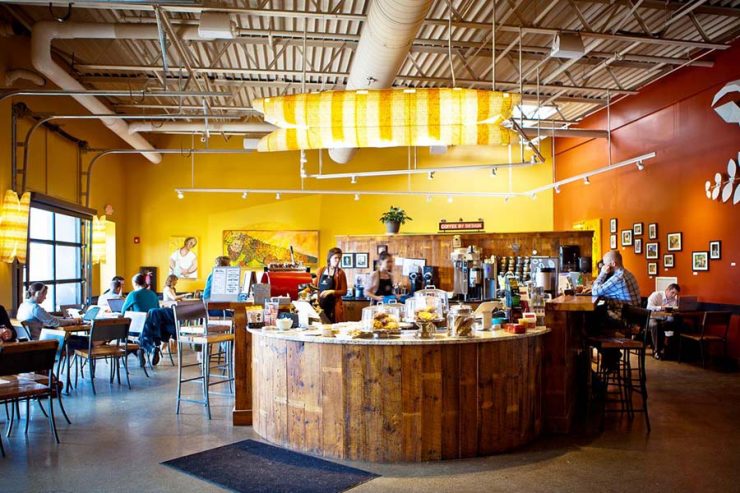 The Best Coffee Shops in Portland, Maine (2023 Edition)
After scanning some websites with similar lists online, I thought I'd create a definitive guide to Portland's coffee shops. I hope this saves you some time Google searching or reading Yelp reviews. Before we jump in, I wanted to establish a few ground rules and provide context for how I evaluate a spot:
The coffee
The environment
Ease of seating (can I get a seat easily or not?)
Internet access? (I work from a computer, so this matters quite a bit)
I'll add a quick note in certain sections to provide more context on a spot. For example – does Tandem have wifi? Can I grab a seat at Bard? You know, only the facts a local would know 😉
Speckled Ax
Location: 576 Congress Street
Pro-tip: Ask for the Fruity Pebble milk
When I first heard about Speckled Ax, I was still living in Boston. The barista was serving Blue Bottle Coffee (he seemed to know what he was doing) and said something like "there's this place in Portland where they wood-fire their coffee."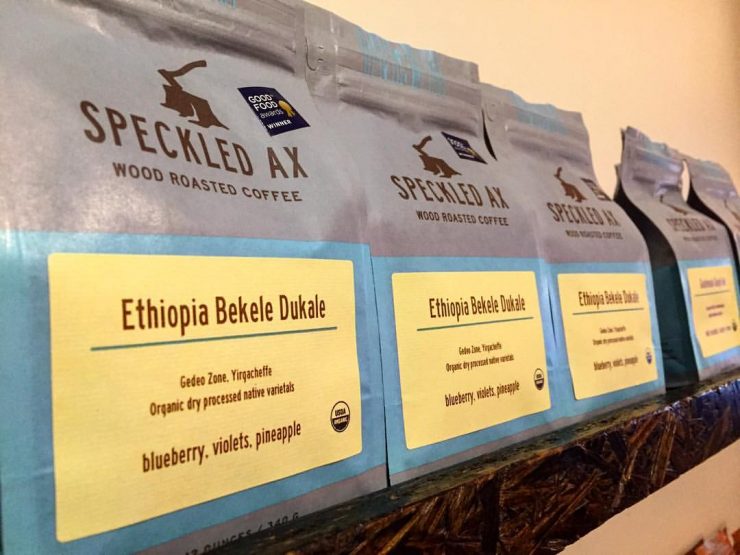 When I moved back, I checked out Speckled Ax and it's my favorite coffee here in Portland. I'm not a coffee snob, but there's a distinct wood-fired taste that is unlike any coffee I've ever had. I refer to it as jet-fuel because it has a ridiculous amount of caffeine or something else that gets you absolutely wired (unlike any other spot in town).
The location is near the West End on Congress Street (which cuts through the middle of town). It can get a little busy at times, so you may have trouble finding a spot to sit with your friends, but the internet is fast.
Tandem
Locations:
122 Anderson Street (smaller, more intimate setting in East Bayside)
742 Congress (bigger location/bakery – West End)
Pro-tip: The malt iced coffee is amazing.
Similar to Speckled Ax, the first time I heard about Tandem I was living in Boston. Coworkers were ranting and raving about it. If you're in Portland, it's definitely worth a visit. The coffee is solid (my personal favorite is the malt iced coffee) and there are a ton of pastries to choose from. It's a great place to hang out when the weather gets cold.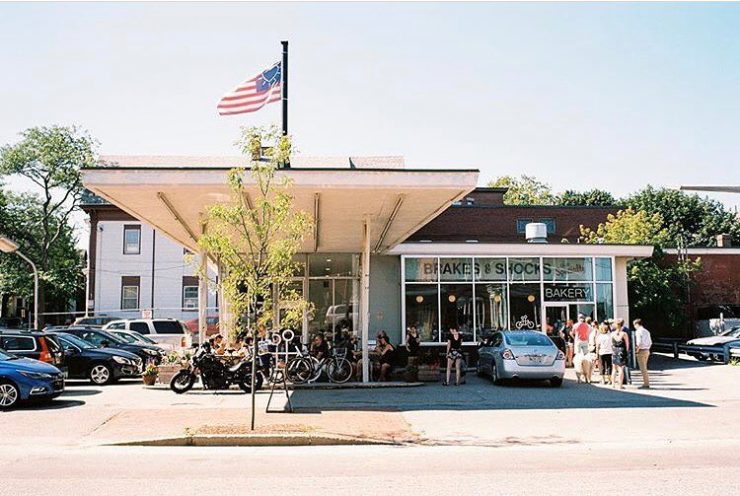 If you're one of those people who loves to take photos and post them on Instagram, the spot on Congress Street is the place to go. It's a beautiful space (an old auto-repair shop) and there's outdoor seating for when the weather is nice. It's a hipster paradise.
If you're expecting to camp on your computer to get some work done, there's no wifi. You'll have to talk to people (or tether) instead. It also gets busy on weekends with a bit of a wait.
Coffee by Design
Locations:
Coffee by Design is a Portland staple and another great place to get your caffeine fix. They have some of the best cold-brew in town. The home base/roasting operation is the location on Diamond Street in East Bayside (see the Portland neighborhood guide for more info) – when you get your coffee you can see the roasting operation through the glass, which is pretty cool. I've never had any trouble with wifi at any of their locations either, which is a plus if you work from a computer.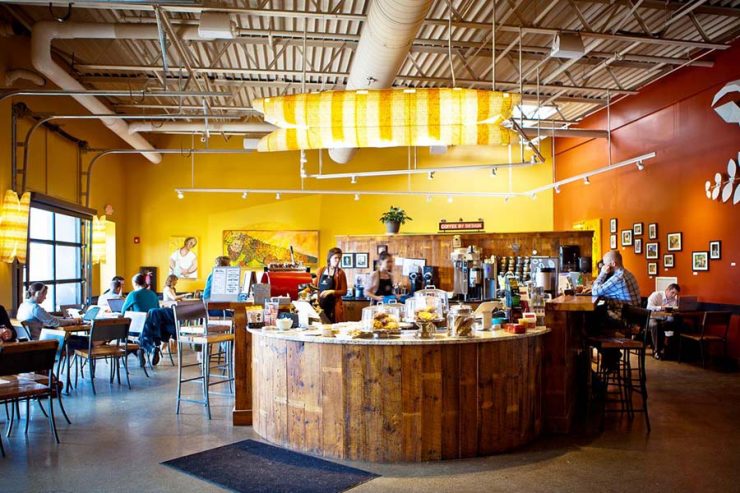 You can't go wrong at any of these locations. If you're a morning person, they open at 6:30 am, which is one of the earliest places to open in town.
Arabica
Locations:
2 Free Street (Downtown)
9 Commercial Street (On the Munjoy Hill side)
You can't go wrong with either Arabica location. The spot on Free street is a bit smaller, while the location on Commercial street is expansive and has a cooler vibe (in my opinion). You can see a photo below: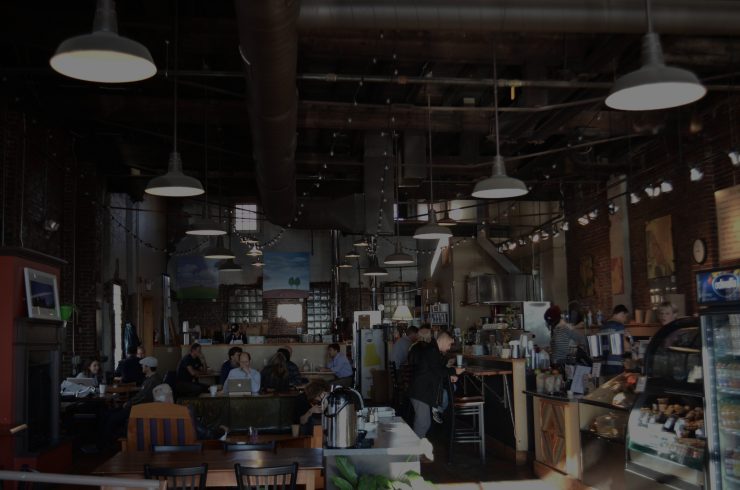 If you're coming to town on a cruise ship, the location on Commercial street is super close to where you'd get off the ship at the Ocean Gateway terminal. Fuel up before you work your way down Commercial street.
The only downside to Arabica is that I've had trouble with wifi in the past. But it's also a place where I see a ton of people working on laptops, so they must have had better luck than I did 🙂
The Proper Cup
Location: 500 Forest Avenue
The Proper Cup is a newcomer to the scene, but it's my wife's favorite spot in town. The coffee is great, the space is great, and the people are friendly. If you're looking to take a break and get a bit of work done, make sure to check this place out. Parking can be a little tough at times, but overall, it's a great spot right outside the hustle and bustle of downtown.
Other Contenders
The list above is what I'd consider to be the most "memorable" spots. I've included a few other spots below to check out too:
1.) Coffee Me Up (221 Cumberland Ave)
Coffee Me Up is a newer spot here in Portland, I've been a few times and the coffee and food is good. I can't comment on the wifi, but it's pretty popular spot so far.
2.) Yordprom (722 Congress Street)
I haven't been here, but my friends have and like it. If Tandem is too busy for you, go here instead. It's right down the street.
3. Hilltop Coffee Shop (100 Congress Street)
If you're on Munjoy Hill, go to Hilltop. It's a solid spot and I've never been disappointed with the coffee. They also serve various pastries/sandwiches.
In Conclusion
If you like great coffee, make sure to check out some places on this list. You won't go wrong. If you want to check out some other good shops in Portland check out this list we've compiled for you.