Blog

Top 7 BEST Christmas Lights viewing! 2022 Edition
Before we start,  do you know where the Christmas light tradition started?  No clue? That's alright, me either. I did what most adult's in their mid 30's do – Googled it. And what I found out made me truly appreciate how bright Christmas has become.  We can thank the Germans for their contribution to Christmas, in middle 17th Century- German Christians started the tradition of cutting down an Evergreen tree, decorating it and placing the tree inside their home.
Before electricity, candles were used in the beginning to illuminate the tree indoors, although mostly unstable they ultimately helped created what we know today as the Christmas light. Fast forward nearly a hundred years later- in 1747,  the Pennsylvania Dutch brought us perhaps the first official advent of the Christmas tree in the "lichstock" (or light stick), which was a large wooden pyramid lit by candles.


Then came the Godfather of Electric- Thomas Edison but it was his business associate- Edward H Johnson, who in the winter of 1882 used small electric light blubs stringed together that Edison had manufactured to hang on his tree. When nightfall came many of Johnson's neighbors noticed bright Christmas lights shining through his windows, captivated by lights and electricity many people spoke of it to others but it was largely ignored by the press. A local paper called Detroit Post & Tribune in 1882 wrote this about Johnson's tree, "Last evening I walked over beyond Fifth Avenue and called at the residence of Edward H. Johnson, vice-president of Edison's electric company.
There, at the rear of the beautiful parlors, was a large Christmas tree, presenting a most picturesque and uncanny aspect. It was brilliantly lighted with many colored globes about as large as an English walnut and was turning some six times a minute on a little pine box. There were eighty lights in all encased in these dainty glass eggs, and about equally divided between white, red and blue. As the tree turned, the colors alternated, all the lamps going out and being relit at every revolution. The result was a continuous twinkling of dancing colors, red, white and blue, all evening". Just like that, with the help of a small article in a newspaper  the  tradition of viewing lights was born.  Interested in learning more?  Click here for entire article.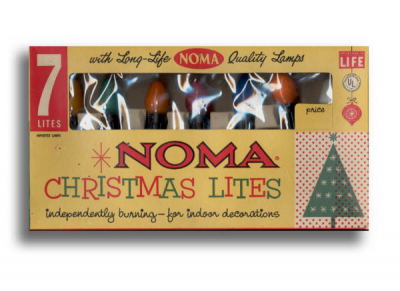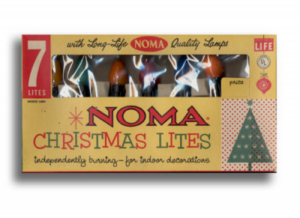 In 1903 – Edison Electric Company finally releases their first Electric Lighting Outfit Kit for the Christmas Tree. Unfortunately each kit was a whopping $12 to rent for the Holiday's, that's over $300 in today's dollars. Sadly it would take twenty more years until Noma (who was the largest light company at that time) to release their own 7 independently burning light decorations for a much affordable price. Once the general public started buying Christmas lights many other Companies followed with their own style and colors. In 2020, the  Christmas light combination is endless- they have lights that flash to music- iPhone Apps that let you control every light and color. I learned we spend over 7 billion dollars a year on Christmas light & decorations. When growing up in Maine in the early 90s, I'd be excited just to see a couple houses back to back with lights, nowadays they have entire neighborhoods.
Some communities put a lot of pressure on home owners to keep coming up with bigger and better light shows. In my opinion, when people overdue something, it can lead to forgetting why you started it in the first place. For me, I cherished spending Christmas Eve piled into my Grandmother's Van with my cousins. We would drive around the neighborhood checking out the known "Hotspots" , you could hear the countless "Wow" or " Look at that" coming from all the kids. We loved this tradition and Box of Maine would love to hear stories on how your family viewed Christmas. Leave in the comments below. If your interested in learning more about the History of Christmas Lights – Click here.
---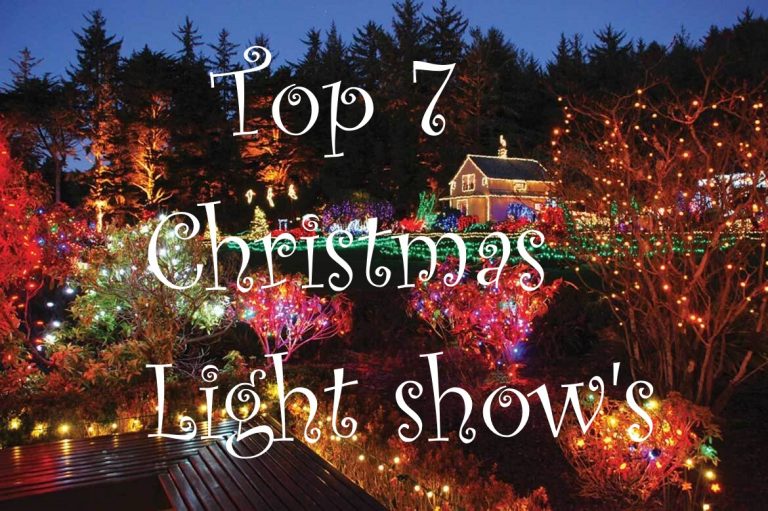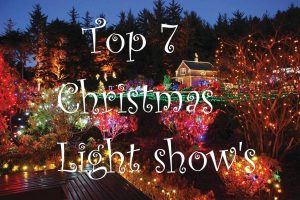 Do you live in Maine? has Covid-19 taken away some of that Christmas Cheer? Well I have the perfect home remedy for you. The Top 7 places to visit for beautiful and Spectacular Christmas Light Shows !
1. Darling's Honda in Bangor – They will be showing lights until Jan 1st from 4pm-9pm , Tune in at 99.9FM Check them out on Facebook- Here.
2. Bangor Rotary Club – Festival of Lights Maps , Do you live in Penobscot County? Check out over 60+ Entries             in this year's – Festival Hits the Streets.  Christmas Lights viewing information & Google Map  Click here .
3.  Hill Road in Canaan, Maine – They allow you to get out and walk through (If you just want to drive past that's          fine, if you decide to get out, please wear masks & bring sanitizer) Video of someone driving past it on FB – Here
4. Lewiston – Augusta , Maine area – Come check out 74 Warren Avenue in the Town of Monmouth. All the info             is online – Here .  There's a 21 minute show w/ parking , hours – 4:30pm – 9:00pm
5.  Windsor Fairgrounds – Date : November 28th – December 23rd, 2020 – Santa & Mrs. Claus is starting the first          Tree Lighting & Christmas light show Village at the Windsor Fair grounds – some proceeds will be donated.
6. Norton Lights Near Me – 213 Canterbury Rd, Wells, Maine – With over 60k dancing light blubs- Santa – Check them out online here or visit https://www.nortonlights.org/
7. Corner of Greeley St & Somerset Ave in Pittsfield, Maine – 2020 Light show , you can tune in @ 89.1 Fm for music.
I would like to give a shout out @ Christmas Lights in Maine for the help in locating shows. If I wasn't able to find a show in your area, I'm sorry. I know most of these shows are Central Maine. Take a few minutes and check out their site- Here. Thanks again for checking out this week's blog, I want everyone to have a happy and safe Christmas.
Not sure what to buy a loved one for Christmas? Try some Maine Whoopie Pies or some relaxing Bar Harbor Tea. There's still time to order online @ Boxofmaine.com