Blog

How difficult is it to roast coffee in Maine?
Made In Maine Podcast Episode 2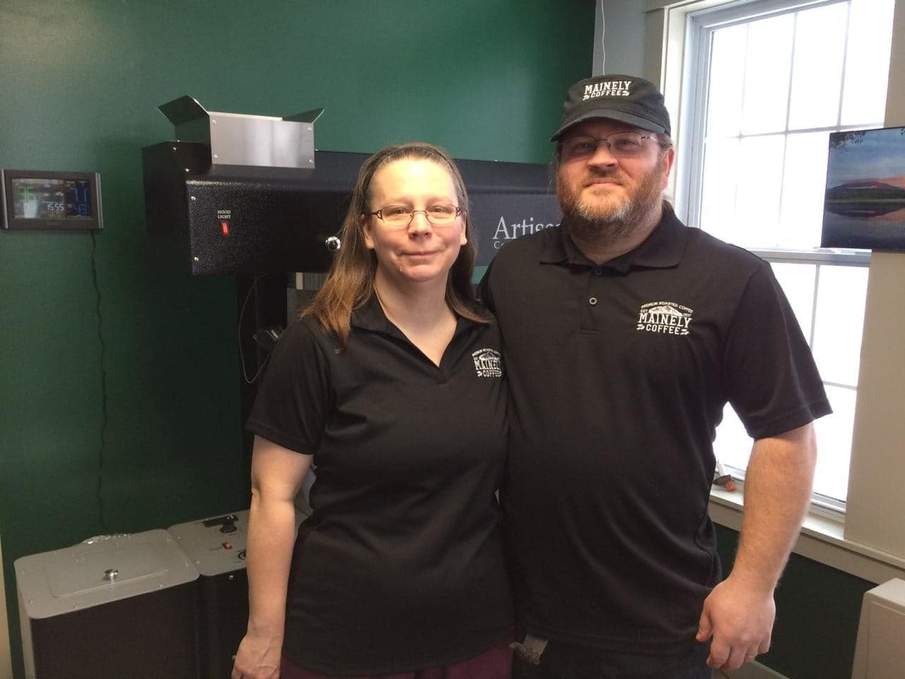 Welcome back everyone! Last week on the Made In Maine podcast, Matt (Owner of Black Dog Ironworks) and Dan (Owner of Box of Maine) sit down with Roger and Sarah Buzby, the owners of Mainely Coffee. In this blog, they will sit down and chat about how their business got started , blending different coffee beans, exploring how hot/cold blends are made and where coffee beans are grown and of course where you can purchase your very own Mainely Coffee. So grab yourself a cup of Joe and enjoy!
What's the one thing you ask a local business owner when sitting down with them for an interview? How did you get started? Roger from Mainely Coffee explains how his brother sent him a ziplock bag of coffee grounds in the mail. Roger wasn't sure what to do, he called his brother up and said " Dude, if you're so hard up that you've gotta split coffee between the family, you could just save yourself the trouble". I can't help but laugh at this. His brother then explained that he roasted them himself. That gave Roger an idea, so he did what everyone does when they want to learn something, go to Youtube. He watched a bunch of videos, wrote down some notes and set out to find the right place to purchase his first coffee beans.
Now with beans in hand, he went to the nearest thrift store and found a cheap popcorn popper and he started learning from there. Pretty interesting so far. Roger and his wife go on to explain how coffee is made, Roger breaks down the science of coffee making, where coffee beans are harvested and what temperatures are used in the stages of brewing. His wife Sarah of Mainely Coffee talks about something called "cupping" which is a tasting technique used by producers and buyers around the world so they can learn the aspects of cleanness, sweetness, acidity and aftertaste of the bean. 
In the next part of this podcast, they talked about the different types of blends and teas Mainely Coffee produces. For anyone reading this isn't exactly sure what a coffee blend is, it's a mixture of two or more different origin coffee beans that are mixed together. The idea behind each blend is to take the best qualities from different beans to create a smooth, well- balanced tasting coffee. Roger explains the trial and error of making each blend and describes how "cold" brew is made. So normally when people think of brewing coffee, you're using hot water over a short period of time. In cold brew, it's the exact opposite of that. You use cold water over a long period of time. What happens is that, because of the water temperature and the length of time, you are extracting different things from the coffee. When you use the hot method, because of the brighter acidity, it tends to be a little bit harsher.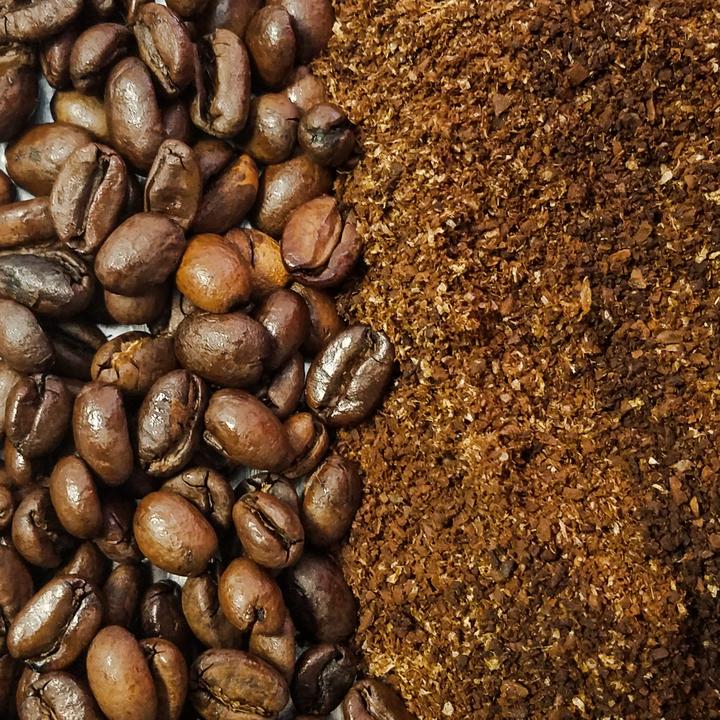 So what happens with the cold brew is it tends to be silkier, smoother and has much more depth of flavor. There will be very little acidity, which can help with how your stomach handles the coffee. He goes on to explain that there's two different types of blends he uses. 
The first one is called pre-blend where you blend and roast it all together, then there's post-blend where you're roasting two different kinds of coffee. In Mainely Coffee's case, their most popular blend is called, Roaring Brook. A blend of both Dark and Medium Roasted coffees, this blend has a rich, creamy body with strong notes of dark chocolate, allspice, and vanilla but with just a hint of citrus in the finish.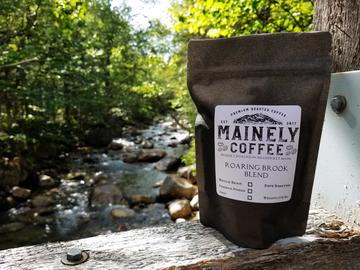 Flavor Profile :
– Palate : dark chocolate, all spice, vanilla
– Finish : citrus
https://mainelycoffee.com/products/roaring-brook-blend
For people who enjoy just ice coffee/ cold brew — Mainely Coffee has developed their cold brew-kits. They offer a kit that contains two, 4-ounce filter bags pre-filled with coffee so you can have your cold brew with an easy clean up for whenever you're on the go. Cold brew is very rich, silky-smooth, and has a full bodied flavor. Clearly it's a fan favorite for a reason. Check out the Mainely Coffee website for your Cold Brew Kit
https://mainelycoffee.com/products/cold-brew-kit-8oz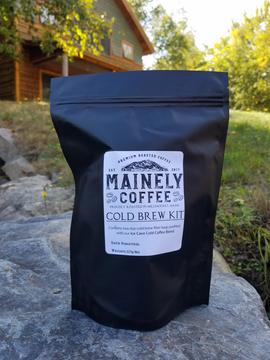 On our last leg of the podcast, we find out where Mainely coffee is available, Of course you can find their product in the Millinocket area but if you live outside of Penobscot County, here's a list of other places in the New England area is your interested in buying some Roaring Brook – Cold brew – Cascara Chai Tea and a bunch of more flavors!
Maine:
Box of Maine – 695 Stillwater Ave, Old Town, ME 04468 www.BoxOfMaine.com
Katahdin General Store ~ 160 Bates St, Millinocket, ME 04462
NEOC Woods and Water Shop ~ 102 Penobscot Ave, Millinocket, ME 04462
Tiller & Rye ~ 20 South Main St, Brewer, ME 04412
Ellis Family Markets ~ 5 Main St, Patten, ME 04765 & 6 Main St, East Millinocket, ME 04430
Pine Grove Campground and Cottages ~ 882 Grindstone Rd, Medway, ME 04460
Northwoods Trading Post ~ 1605 Millinocket Lk, Millinocket, ME 04462
The Not So Empty Nest ~ 624 Hammond St, Bangor, ME 04401
Acadia Image Arts ~ 20 Mount Desert Street Bar Harbor, ME 04609
Maine Line Products ~ 297 Main St, Greenwood, ME 04255
Unity Flower Shop ~ 257 Depot St, Unity, ME 04988
Spring Break Maple and Honey ~ 3315 US RTE 2, Smyna, ME 04780
The Old Blueberry Farm Store ~ 1574 Greenfield Rd, Greenfield Twp, ME 04418
Pietree Orchard ~ 803 Waterford Rd, Sweden, ME 04040
The County Co-op and Farm Store ~ 53 Main St, Houlton, ME 04730
Massachusetts:
The Country Gourmet ~ 547 Summer St, Barre, MA 01005
Shrewsbury Country Shoppe ~ 598 Main St, Shrewsbury, MA 01545
Creative Connections Gift Gallery ~ 56 Main St, Ashburnham, MA 01430
Connecticut: Gilbertie's Herb Garden ~ 7 Sylvan Ln, Westport, CT 06880
Small Potatoes Artisan Crafts & Unique Gifts ~ 204 Sturtevant St, Norwich, CT 06360
New Hampshire: Puggy's ~ 37 Emerald St, Keene, NH 03431
Of course you can order online at https://mainelycoffee.com/ or you can find a 2oz pouch of Blueberry Ledges in our 5-item, 7-item or 10-item Box of Maine. After listening to this podcast, I can say I've learned a lot about the complex process of sourcing, roasting and blending. Coffee has been popular for hundreds of years but ever since the technology boom, most coffee businesses have broken it down into a science. It's pretty amazing how Roger and Sarah started from getting coffee beans in the mail to selling it all over New England. I'm a firm believer of buying locally and supporting small businesses.
If you have some free time (45 minutes) check out the entire podcast at any of the following streams: