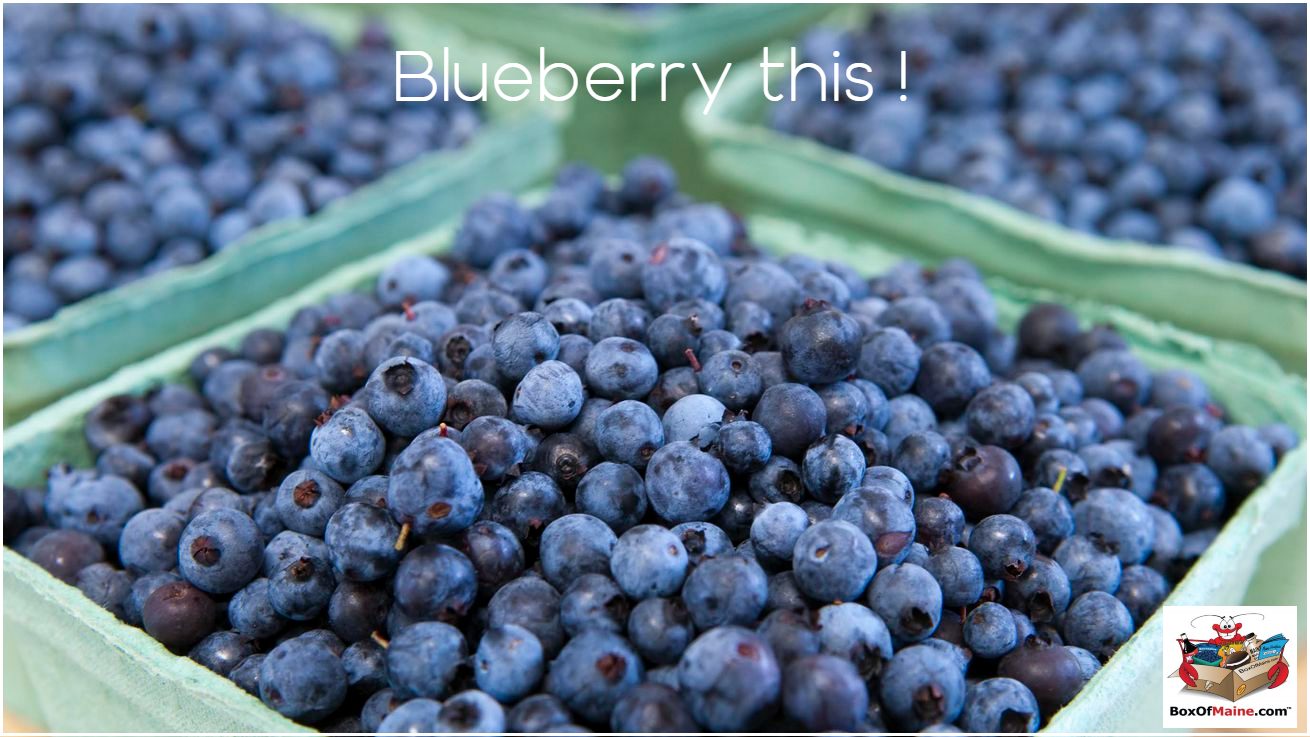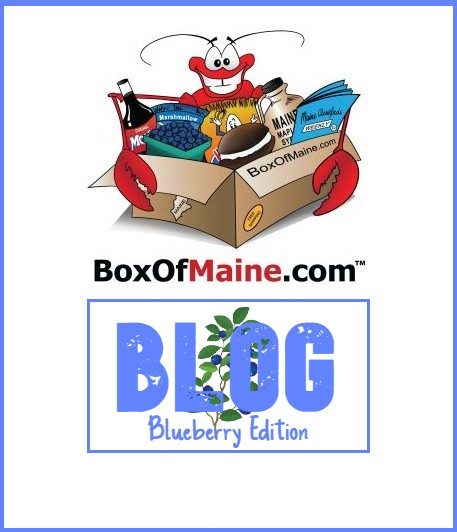 ---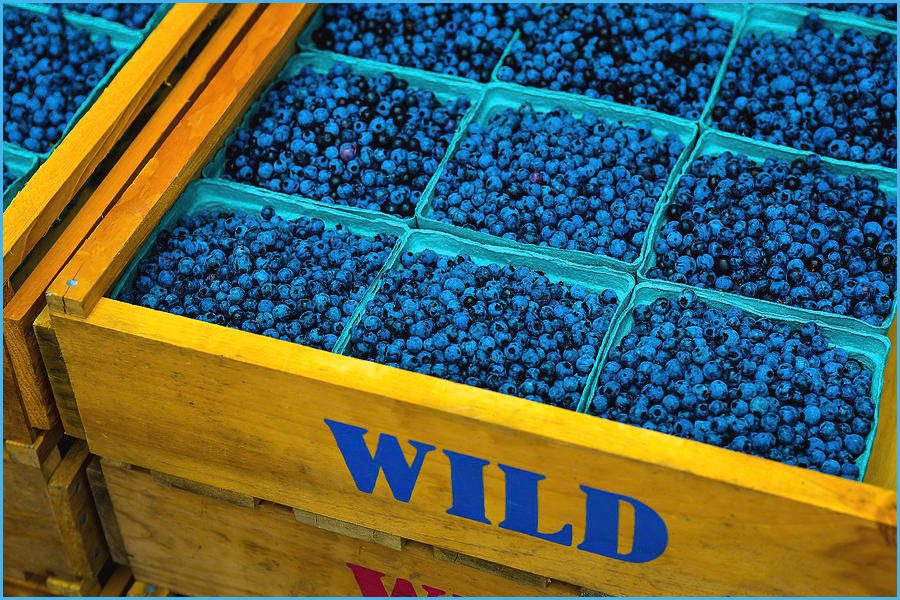 It's Blueberry season! On this Box of Maine blog we dive deep into a fruit that just about every Mainer has tried at some point in their life. Love it or hate it, this slightly sweet tasting but acidic berry is not just used in your grandma's blueberry pie or a source of antioxidants. This tart fruit has helped many small businesses thrive allowing thousands of immigrants to adventure in Maine for the harvesting season. Box of Maine loves everything this state has to offer and enjoys paying homage to our great natural resources.
With state fair season fast approaching, I wanted to include two long standing fairs in Maine- The Blue Hill & Fryeburg Fair. If you're interested in testing your blueberry pie skills you can sign up right here-Blue Hill Fair pie contest. Last but not least, Box of Maine has everything for your blueberry needs, on the website we have over a dozen blueberry themed items- blueberry sampler boxes and we were offered free shipping in the United States.
---
We can thank the last ice age for colonizing the soil, creating a well-drained sandy loam soil that blueberries were able to grow in as the glacier receded the land which established one of the first plants to grow. Because of a symbiotic relationship between the blueberry plant and fungal infection, it allows the plant to trade nutrients for minerals. Fast forward thousands of years, the wild blueberry plant survived in the forest understory either by the Native Americans with fire or by colonists to clear land for shipbuilding.  Once cleared two types of blueberry bushes started forming the low sweet lowbush blueberry and sour-top lowbush blueberry, they grow about one foot tall and we call them wild because these plants occur naturally in Maine. One of the most harvested blueberry fields is located in DownEast Maine called the- blueberry barrens.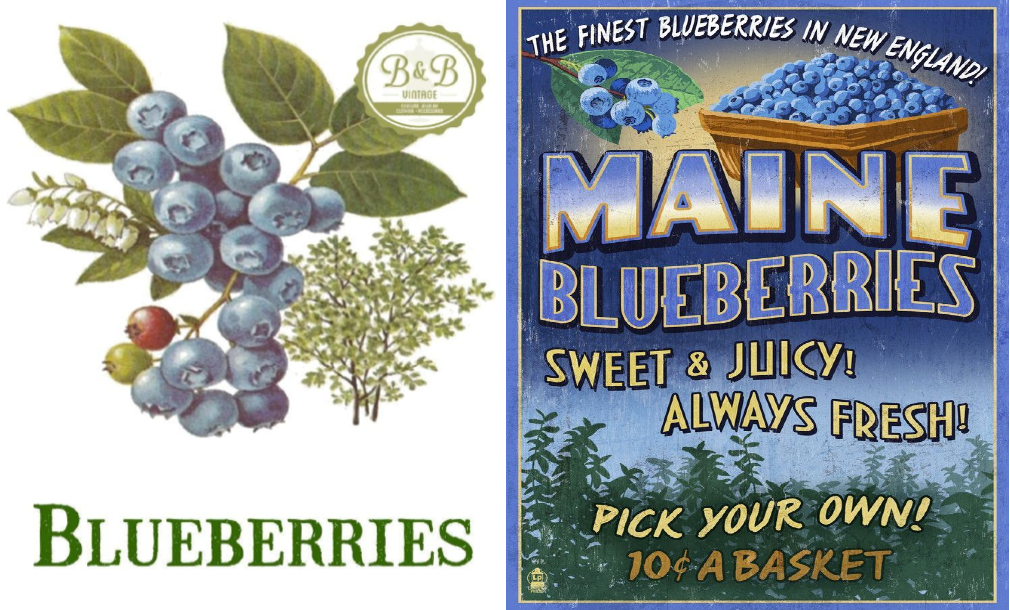 In the late 19th & 20th Century blueberry harvesting started to become an industry mostly being picked by hand and shipped in wooden boxes and transported by boat and rail. In 1883, the tablet rake fashioned after the cranberry scoop and granted more of an efficient way of harvesting blueberries.
Circa 1950's, Columbia Falls, Maine was the largest producer but sadly has declined to only about 9% of the North American crops but has increased to about 66% in cultivation. While production has increased from ten to a hundred million pounds over the past 50 years, Maine had over a hundred thousand acres but only produced about ten million pounds in the 1950's. It now produces 100 million pounds on just 44,000 acres by companies improving their management practices.
A unique feature I've learned about wild blueberries is that they're pruned on a two-year cycle to give maximum production with most fields being out 10 acres and Maine has around 500+ growers throughout our state. At the beginning of the season, most blueberry harvesters burn the acreage for multiple reasons, mostly to control a wide variety of weeds growing and burning is really the most elegant way to manage the fields, especially if the conditions are right.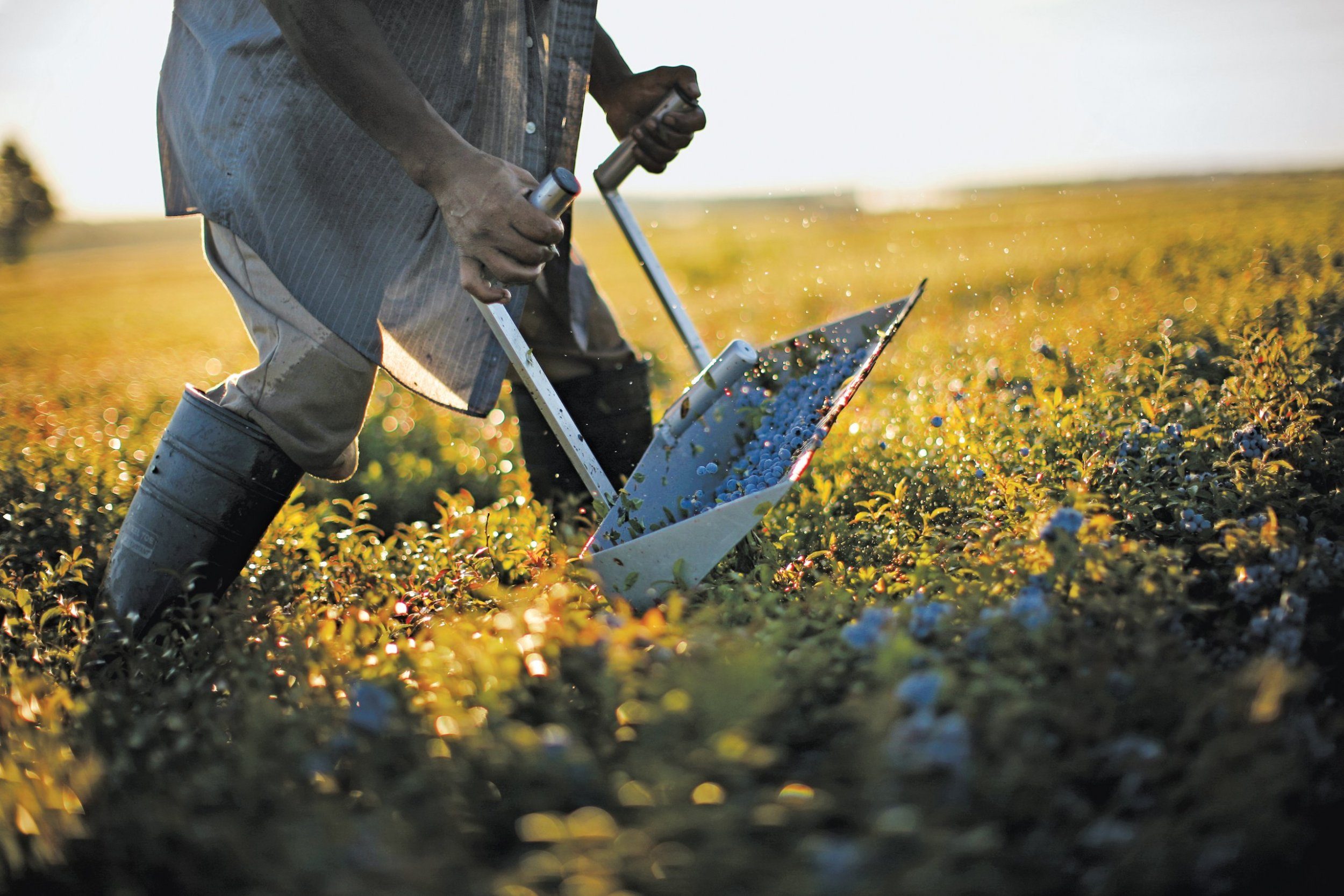 As I mentioned before Mexican laborers came to Maine when companies had larger crops that needed harvesting, most workers still use the traditional tablet rake but on a much larger scale and with extended handles to provide efficient harvesting. Although the larger companies now have special machines that use just one large box to scoop up the blueberries because most companies' objective is to process all fruit within 24 hours and there are six processing plants in Maine and others in Quebec and Atlantic Canada.
Wild blueberries are an ingredient traditional uses include muffins, pancakes, pie and cereal. Interestingly enough, wild blueberries were found to be the number one antioxidant fruit it contains – anthocyanins, phytochemicals, which tie up free oxygen radicals that cause cancer in aging by degrading DNA in our body. Tufts University animal studies showed that old rats with a blueberry diet could do as well as young rats in memory and in physical tests. Blueberries play a role in many areas including brain health, cardiovascular health, insulin response and cancer risk reduction. Check out our blueberry sample boxes down below and start increasing your health with only a half cup of blueberries daily. Enjoy!
---
---

In my youth, I had wonderful memories of driving past Bucksport, Maine on route to Blue Hill. On route 15, our grandmother "Mimi" in her 1994 Dodge Caravan would point out miles of blueberry fields as far as I could see on our way to the Blue Hill Fair, which has been held every year since 1891. As a youngster, I was more interested in what wild rides I could have fun on, but over the years of visiting the fair, I started to enjoy everything the Blue Hill Fair has to offer- the dozens of venders selling food (King & Queen French Fries!), Home Arts & Crafts, Beef Recipe Cook Off and the classic Antique Tractor Pull. The Blue Hill Fair is just weeks away! Get your Maine on and come out and support many small businesses and feast on some of your favorite local Maine goodies!
   The
Blue

Hill Fair

Information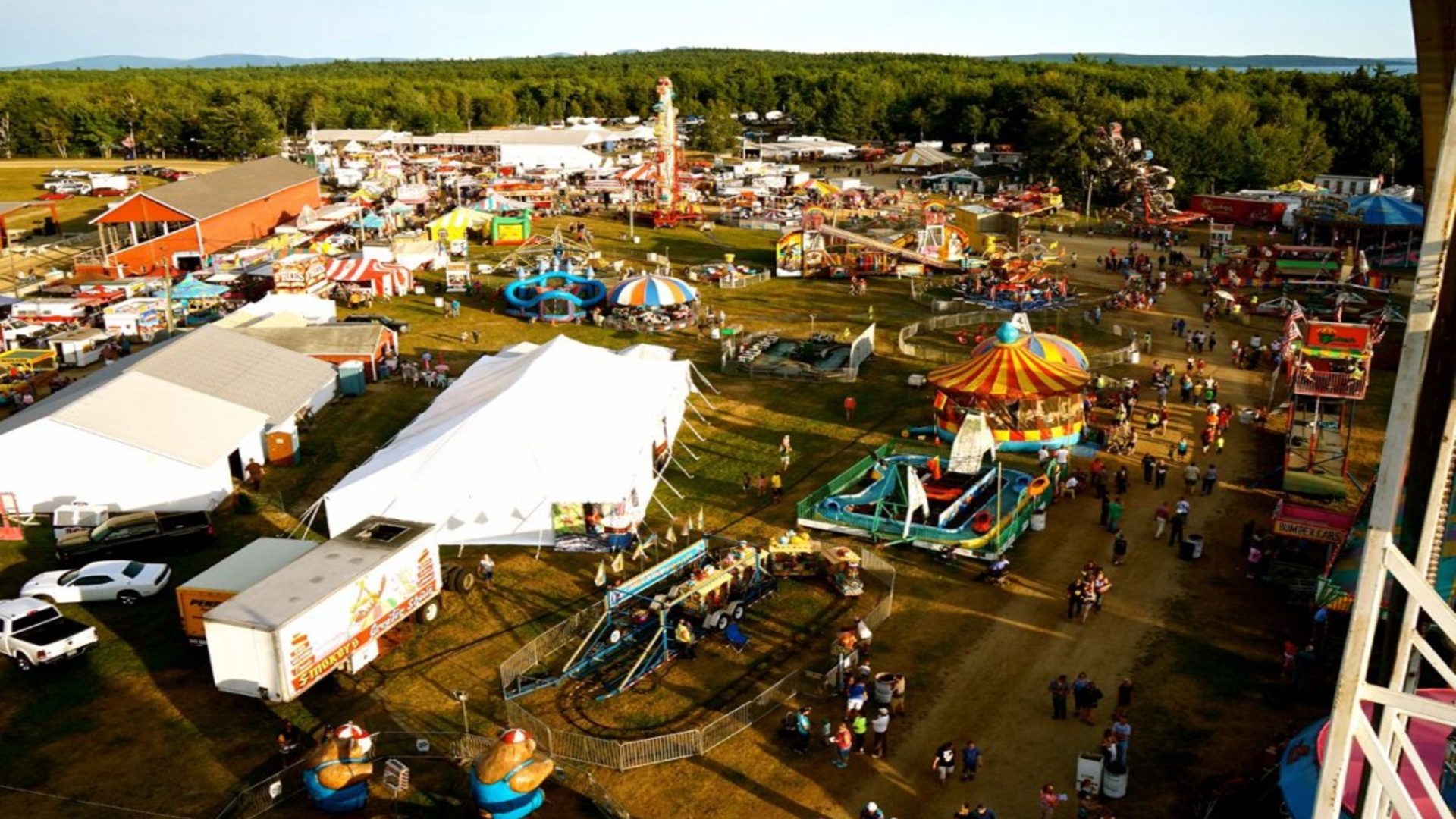 Thursday, September 2nd, 4:00 p.m. to 10:00 p.m. DOLLAR DAY! Adults $1.00
Mechanical rides $1.00 per ride per person.
Friday, September 3rd, 8:00 a.m. to 10:00 p.m.
Senior Citizens Day! Seniors 62 and Over: $3.00
Friday Regular Admission Adults: $8.00
Children under 12 are Free.
Saturday and Sunday September 4th and September 5th, 8:00 a.m. to 10:00 p.m.
Adults $10.00
Monday, Labor Day, September 6th, 8:00 a.m. to 7:00 p.m.
Adults $8.00
Children under 12 are Free.
All stage shows are included with the price of admission.
Social Media
Events
Rocky Mountain Carvers Demo – Thursday, Sept 2nd @ 6:00 pm ( near blue gate entrance)
Hancock Country's Got Talent! – Friday, Sept 3rd @ 6:30 pm (Grandstand Stage)
Blueberry Pie Eating Contest – Saturday, Sept 4th @ 3:00 pm (Grandstand)
Northeast US Sheep Dog Trials – Sunday, Sept 5th @ 10:00 am (Racetrack/Grandstand)
Comedian Bob Marley – Sunday, Sept 5th @ 7:30 pm (Grandstand Stage)
Mammoth Aerial Fireworks Display – Sept 5th @ 9:30 pm
Demolition Derby – Monday, Sept 6th @ 4:00pm
Special Added Attractions !
Welcome our new Carnival! Cushing Amusements
FireGuy Show – World-Record-Holding Fire Juggling and Comedy – Friday- Monday
Ready Go Dog Show – Daily
Rocky Mountain Carvers – Demos Daily
Maine Fish & Game Operation Game Thief Display – Daily
Llama Exhibit – Daily
Miss Maine for America Winner – Saturday
In partnership with "The Grand" Theater, "Hancock County's Got Talent!" – Friday
Wilbur's 5K Road Race – Saturday
Cornhole Tournament – Saturday
Ladies Skillet Toss – Saturday
Antique Tractor Pull – Sunday
DOLLAR DAY
Thursday, September 2nd
$1 Admission, $1 Per Ride
WRISTBAND SPECIAL!!! – 11:00 A.M to 7:00 P.M. MONDAY, SEPTEMBER 6
New for 2021 – "Cushing Amusements" – $20.00 Wristband (Mechanical Rides Only).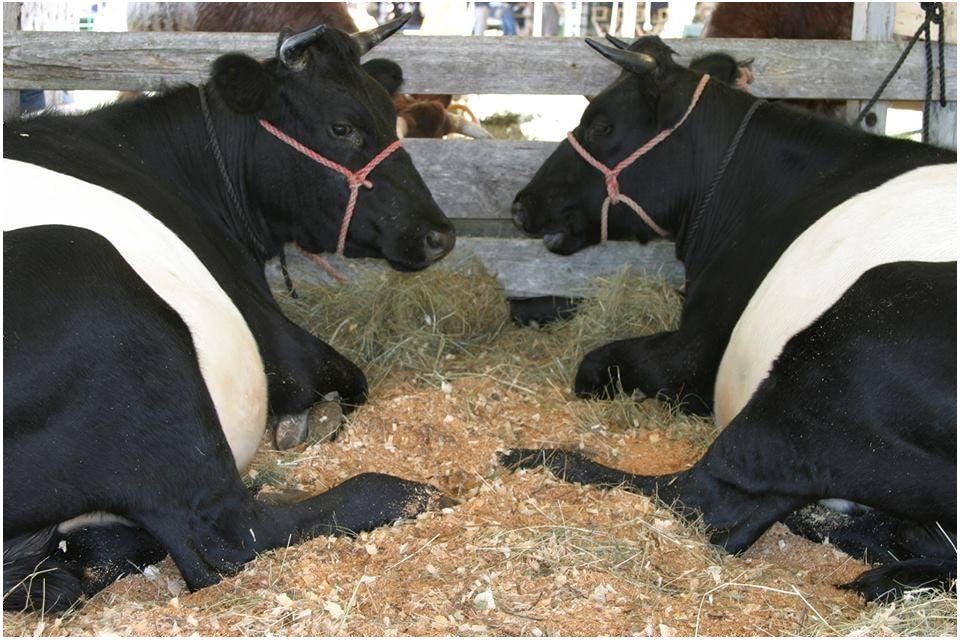 The Blue Hill Fair is a true "Down to Earth" Country Fair. Always scheduled around Labor Day weekend the fair boasts of some of the finest entertainment, attractions and exhibits. Situated in the small coastal town of Blue Hill, Maine, at 233 Ellsworth Road, the Fair draws thousands from all over the state to enjoy a fun-filled weekend
4.3 out of 5 Stars ! Come out and bring the whole family!
My favorite thing about the fair is always the food! And being able to be there as a family. My brother and I used to ride all kinds of rides. The 1001 Natchs was always my favorite. And now I get to share those same great family memories with my kids. – Lacey Leach
---
The winner of the best agricultural fair in the United States, this Blue Ribbon Classic fairground has an unbelievable amount of fun for the entire family. This year they have a Calf & Pig scrambles, Sheep Dog trials, the popular Skillet & Anvil throw, Tractor Pulls and the Woodsmen's Field Day. There's food, fireworks, music and almost every livestock wrapped into one exciting week. If you're interested, the lodging information is below, I would suggest booking as soon as possible because hundreds of thousands of people attend this fair.
       Fryeburg

Fair

Information

Opening this year on October 3rd – 10th 2021 – Program of Events 2021 – Click here
Tickets to Fryeburg Fair:
Daily Admissions $12.00
Weekly Bracelet $80.00
Children under 12 FREE
Senior Citizen's Day is Tuesday (if you're 65 or older you get in FREE)
Parking on Grounds – $ 5.00
Parking on Grounds – $10.00 Premium
For more information call (207) 935-3268
or email us at [email protected]

Lodging & Restaurants (click for link)
Camping
Social Media
2021 Night Shows
All shows are at 8:00pm at the Grandstand, their Friday night show is always followed by a spectacular fireworks display.
Directions – 1154 Main Street, Fryeburg, Maine 04037 US
Phone # (207) 935-3268
4.7 out of 5 Stars on Facebook !
Too many things to do to pick just one! It takes more than one day to see everything and sample all the FAIR FOOD ! The music venues rock!! The exhibition halls are wonderful!!! Horse pulling, horse RACING, bunnies, animals, animals and more animals!!!! The local communities are all represented by fireman muster, woodsman day……. My favorite place to be for 8 days!!!!! – Donna Harrison
Been going for years no better fair around. Wonderful for a family – Michael Resendes
---
---

Finally the best part! Box of Maine continues to grow the blueberry inventory and are extremely thankful for the companies that brave the heat and harvest every summer so we can sell these amazing products to all those Mainers who just want a piece of home.  On this month's blog, I'm featuring two beautifully blue sample gift boxes that will bring a smile to anyone you truly love.
      Blueberry
Breakfast Box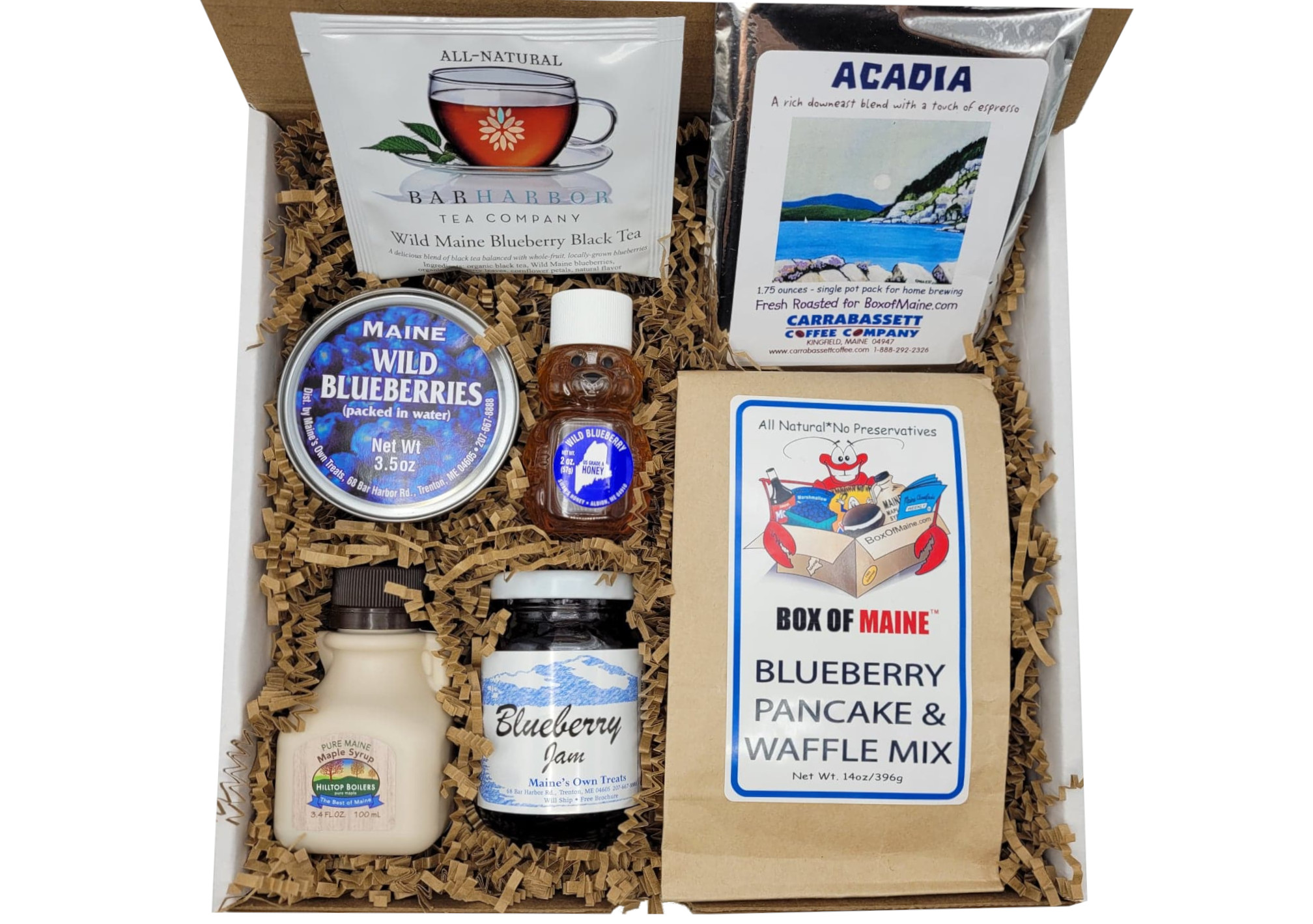 Bar Harbor Tea Company – Wild Maine

Blueberry

Black Tea
Carrabassett Coffee Company – Acadia (1.75 oz)
Maine wild

Blueberries

(packed in water)(3.5 oz)
Grade A wild

Blueberry

honey (2oz)
Box of Maine's

Blueberry

Pancake & Waffle mix (14oz)
Maine's Own Treats –

Blueberry

Jam
Hilltop Boilers – Pure Maine Maple Syrup (3.4 fl oz)
---
Blueberry
Sampler Box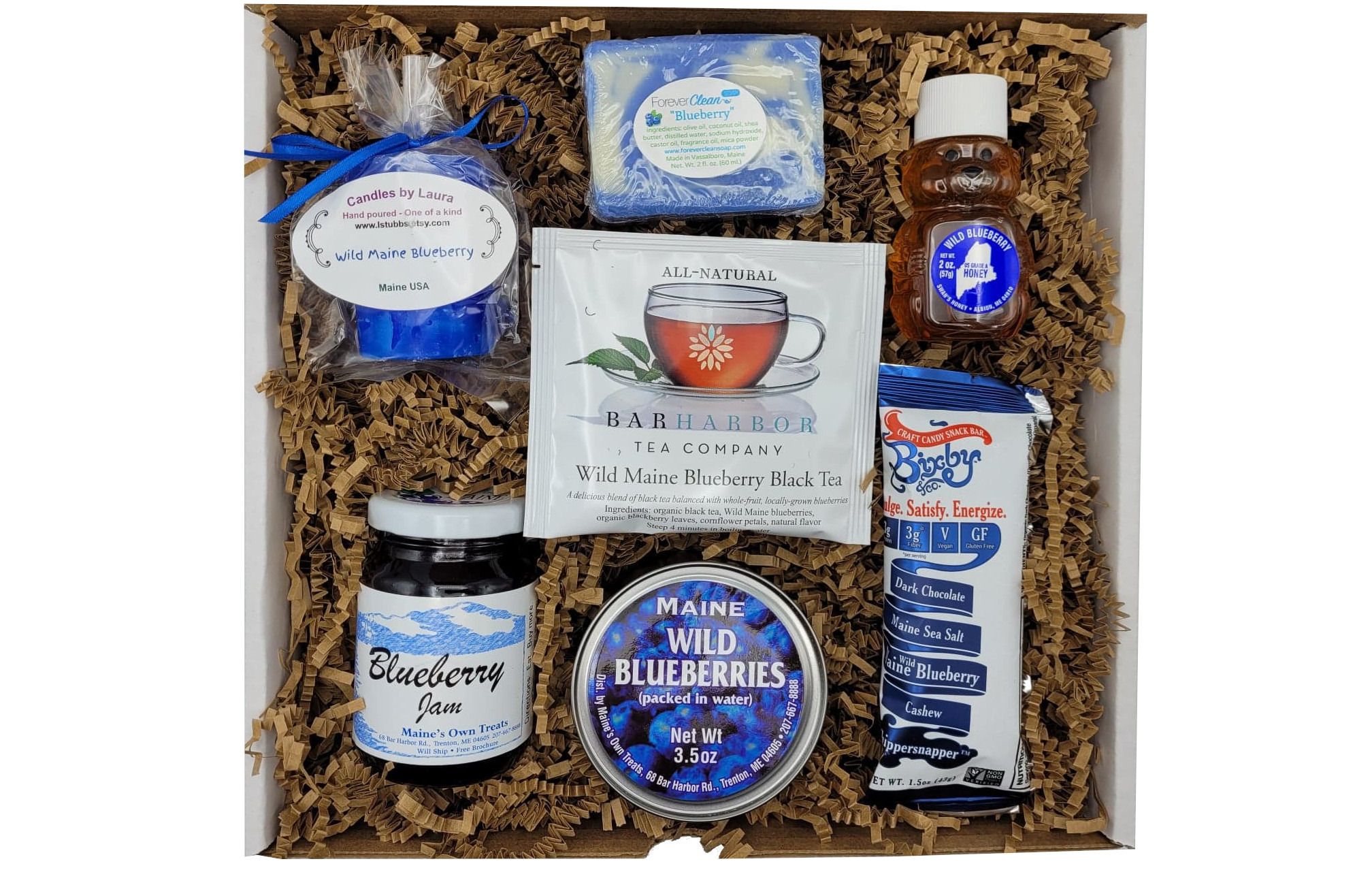 ForeverClean – 

Blueberry

soap (2 fl oz)
Candles by Laura – Wild Maine

Blueberry

Grade A Wild

Blueberry

honey (2oz)
Bar Harbor Tea Company – Wild Maine

Blueberry

Black Tea
Maine's Own Treats –

Blueberry

Jam
Maine's Wild

Blueberries

(packed in water)(3.5oz)
Bixby – Dark Chocolate Maine Sea Salt Wild

Blueberry

Cashew
---
Thank you for taking a few minutes out of your day to check out Box of Maine's blueberry blog. I've always respected the relationship between Maine and the wild blueberry. There's just something about pulling over to the side of the road and buying a few quarts of wild Maine blueberries then coming home and using the berries in some homemade muffins or blueberry pie. You can always order wild blueberries (packed in water) online at Box of Maine – Here. Comment below what's your favorite recipe that includes blueberries!